Performance
Series
Perform better in warm weather
Performance
Series
Perform better in warm weather
Performance Series Muscle Oils
The Muscle Oils from our Performance Series help to prepare you for intense workouts on warmer days. The products penetrate deep into the muscle tissue, where they help to get the blood circulation going. Feel the difference!
The products from this collection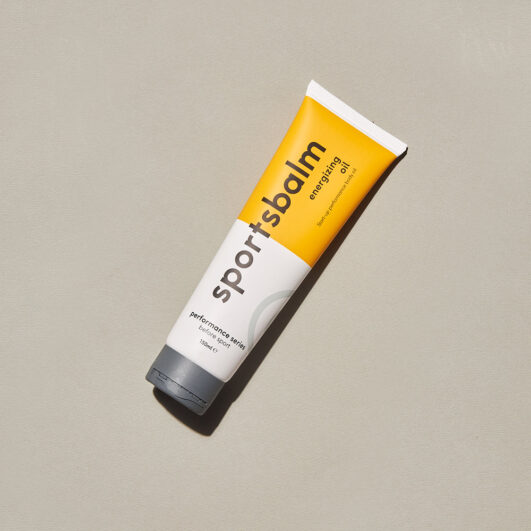 Energizing oil
Sport massage oil for mild and warm weather conditions. By stimulating the blood circulation in the muscles, the Energizing Oil increases the supply of oxygen and speeds up the removal of waste. This minimizes the risk of muscle acidification, stiffness and muscle pain. Go for an optimal performance!
Taking care of your muscles like a pro
Did you know that Sportsbalm is an official partner of Team Jumbo-Visma? Check out our blog to see how you can take care of your muscles like a true professional.
Check it out
Sportsbalm Performance Series
Optimal blood circulation
Our sports massage oils stimulate the blood circulation in your muscles. You might think your muscles automatically warm up when temperatures rise above 20°C, but actually it is just your skin that gets warm. In fact, a warm skin even draws blood away from the muscles you want to use. Therefore, Sportsbalm massage oils with ingredients like cajuputi and camphor are developed to get deep into the muscle tissue to stimulate the blood circulation.
Prevent injuries
By using our Muscle oils you muscles and tendons for action and reduces the risk of injuries. Even if your muscles are stiff or tired, our sports massage oil increases your sports performance. Rubbing your muscles with our Performance Series oils before your training is therefore a valuable addition to your warm-up exercises.
Usage of our muscle oils
Our Muscle Oils are best used at temperatures between 20°C and 30°C. Unlike some other muscle oils, Sportsbalm Muscle Oils do not close the pores, and allow the skin to continue to breathe. For the best effect, rub in the muscle massage oil 15-30 minutes before exercise.
"In order to win you need to be 110%. Sportsbalm helps me to achieve this"
Wout van Aert
Chafing spots from sweating in hot weather?
During warm weather conditions, you often sweat a lot during exercise. When friction occurs between skin or clothing, this can lead to chafing. You can prevent this with our anti-friction series!
Care Series